This content has been archived. It may no longer be relevant
UPDATE September 7:
We have discussed the weather concerns with our contractor. He assures us that the electricity outage will typically be 10 – 30 minutes. They need to flip 2 circuit breakers feeding 6 coaches, verify the power actually went off where they expected, then turn them back on. This should go pretty quickly. It's being done in the morning before the high heat of the day. Over the course of the two days, all spaces will be affected.
REMEMBER – THE CLUBHOUSE WILL HAVE POWER AND MAY BE COOLER
From September 1:
The first step of our electrical service upgrade begins Thursday and Friday, September 8 and 9. The contractor will be digging 12 holes in specific locations in the park where connections need to be made to electrical cables that will be installed later.
The contractor needs to know exactly where the existing cables are buried, and he also needs to know the soil conditions at these locations. Soil containing rocks can be a problem, so we need to know the condition before starting any underground boring work.
These locations are determined by the way our existing underground cabling is laid out. We have no choice on this. Most of the locations are not expected to be a problem, however it is possible that some existing landscape may be affected.
Once the holes are dug and we have the needed information about cable location and soil conditions, the holes will be filled with sand. The sand is a temporary filler until we actually start laying the new cabling. The holes will be covered for safety.
The holes are dug using a large vacuum cleaner. A truck and crew will actually vacuum out the existing soil. This may be a noisy operation, but it's much safer and faster to vacuum than to dig with a shovel. Vacuuming avoids the risk of damaging anything underground, such as a water line, for example. This is particularly important since our park has water, gas, sewer, and electrical pipes and cables all running somewhat close together underground.
The RED circles below show the approximate location of the holes to be dug on THURSDAY.
The BLUE circles below show the same for FRIDAY. Some will shift to one side or the other when a fence or some other obstruction is found.
The following spaces need to park their vehicles in guest parking on Thursday, September 8:
12, 13, 26, 27, 55, 67.
The following spaces need to park their vehicles in guest parking on Friday, September 9:
67, 68, 87, 88, 99, 100.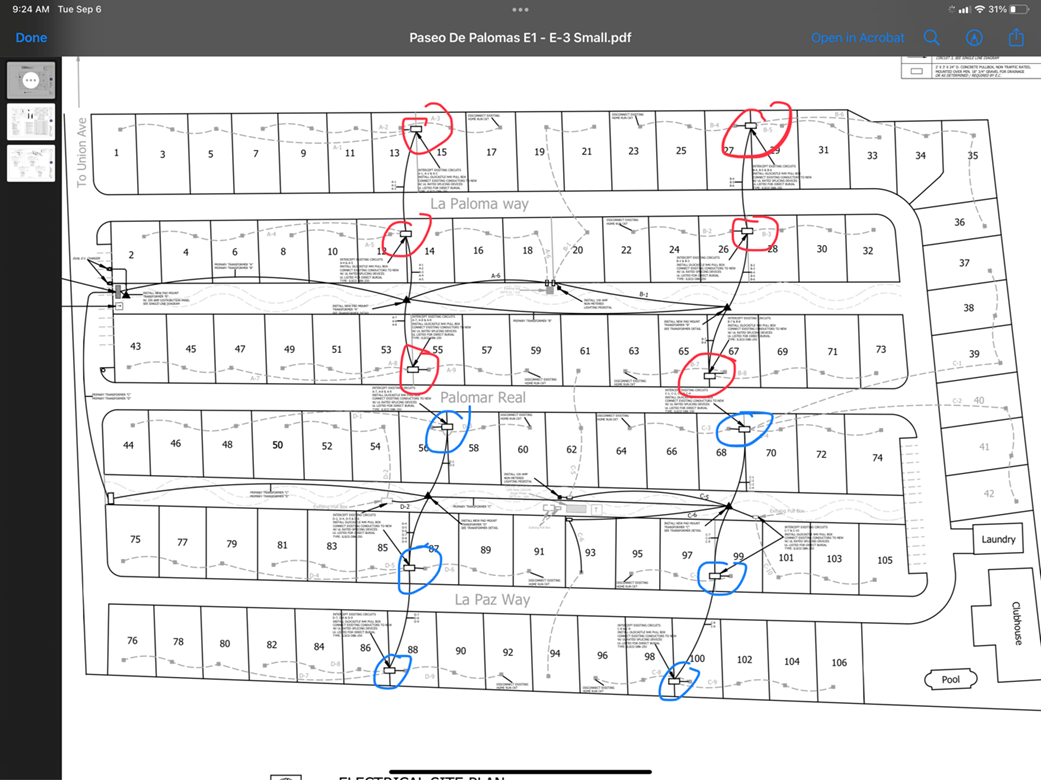 Post expires at 2:53pm on Friday October 7th, 2022